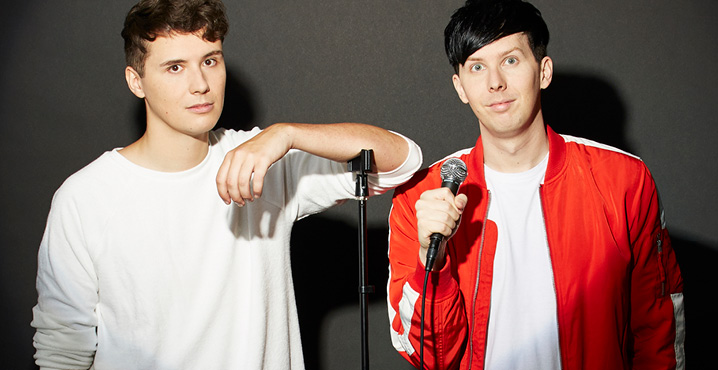 Hello! I'm Kiersten, an integrated marketing communications student at Ithaca College. This summer I am the social media intern at Proctors.
As a theatre nerd, as well as someone who watches too much YouTube, I've spent a lot of time thinking about YouTuber's live performances. Online creators have been taking their content to theatres around the country for years now. But how do they do it?
Moving online videos to the stage is similar to adapting a book or movie. If I've learned anything from what's on Broadway right now—SpongeBob the Musical, Frozen, Mean Girls– it's that there is a market for adaptations. Both live performances and traditional adaptations have the same task—to take existing material and make it bigger and better. Take for example creators, Daniel Howell and Phil Lester.
Their 2015 tour, The Amazing Tour Is Not On Fire, focused on enhancing preexisting video content. Popular videos like "Internet Support Group", "Why I Was a Weird Kid", and "Dan and Phil Play: Sims 4", all made it to the stage. The show was a complete theatrical performance, with an extravagant set, audience participation, and a full musical number.
Now in 2018, Dan and Phil are kicking off their second world tour. Interactive Introverts focuses on enhancing the audience's interactions with Dan and Phil. Before the show, attendees can go to the tour website and submit photos, impressions or questions that Dan and Phil can incorporate into the show and engage with the audience.
Both shows are not only fun for fans, but are also a truly unique theatre going experience. As a fan, I'm excited to see what this more toned down, intimate tour has to offer. Part of the appeal of watching creators is that they're not as distant or isolated as mainstream celebrities. They are much more connected to their audience, and this tour seems like a celebration of that. All of this leads to one very important question-
What question would you ask Dan and Phil?