E-ticketing, touchless entry and check-in:
Proctors Collaborative venues (Proctors, Capital Repertory Theatre and Universal Preservation Hall) have joined countless other arts and entertainment organizations in transitioning to electronic ticketing. In a world where we must be more environmentally and safety conscious, we made this shift in the best interest of our patrons, our community and our organization.
Electronic tickets are more secure and convenient as they are impossible to lose and readily available in your email inbox and on a smart phone. They are also more environmentally-friendly, reducing our carbon footprint and impact on the waste stream. E-tickets save our organization substantial printing costs, funds we can redirect to our programming and educational services. And finally, touchless scanning of your electronic ticket is an additional health protocol that supplements enhanced safety efforts in our buildings.
Need help accessing your tickets?
How to Opt-Out
To opt-out of paperless ticketing, login in to your account, go to Home and click "Email & Ticketing Preferences" under "My Patron Services". Select "Paperless Ticketing Opt-Out" and click "Add selected Preferences". Please note that once in place, you will no longer receive the automatic e-ticket order fee discount.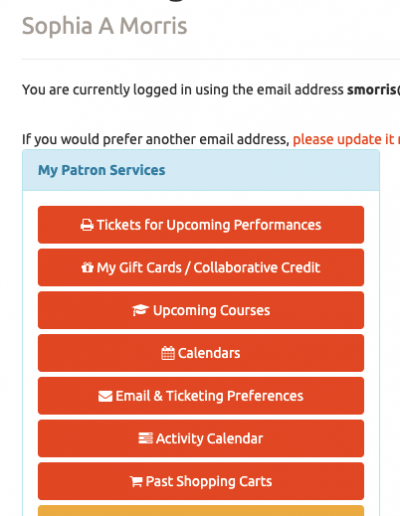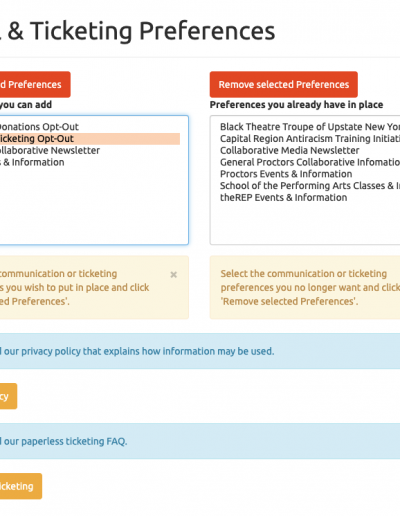 Buying E-Tickets Online:
When you buy tickets online, you will receive an automated confirmation email from info@proctors.org. This email contains an attachment with your e-tickets (pdf) as well as an ics file that you can click on if you want to add the performance to your personal digital calendar (Google, Apple, etc):

The email also has a direct link back to your online account. Just click "Review my future events":

If you cannot find your confirmation email, you can always login to your account online to download the e-tickets.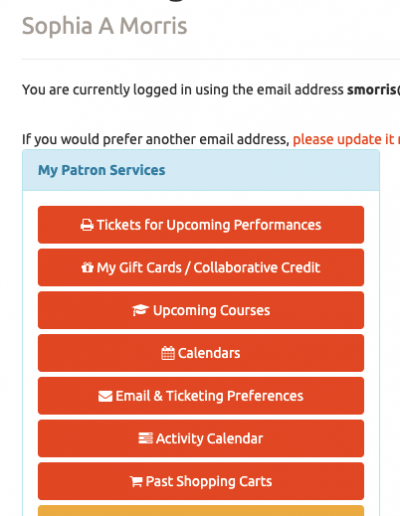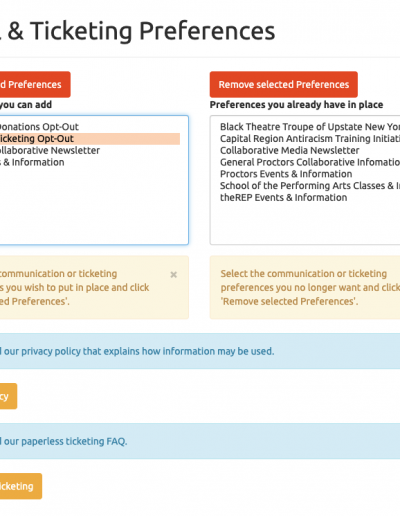 Printing or Downloading Your E-Tickets:
Use any of our websites and click the "Account" button on the top right to login: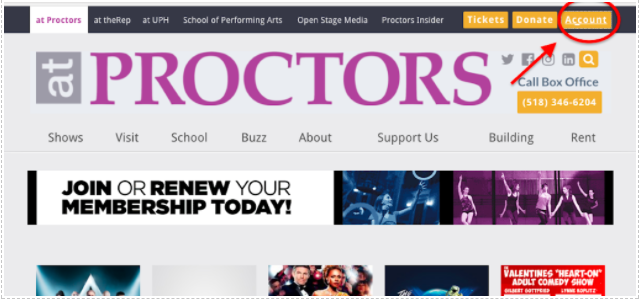 2. Log into your account using the email address and password you have on file with us.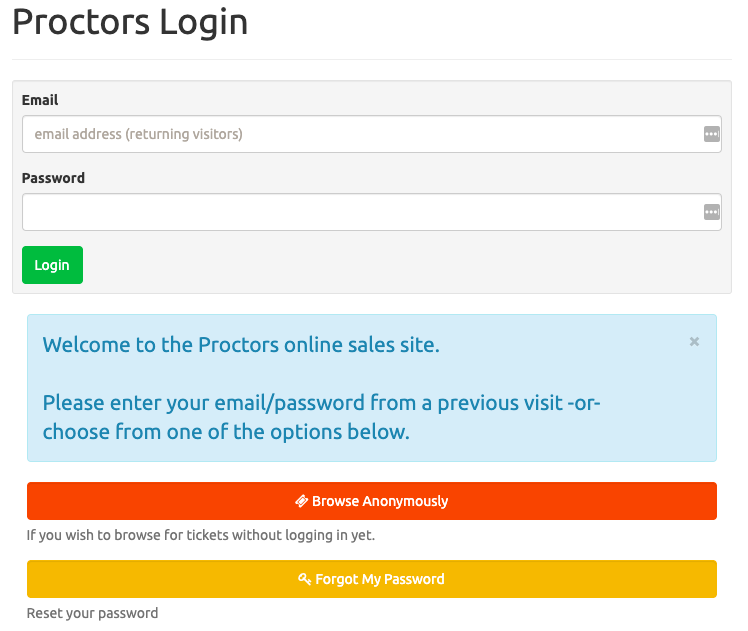 3. On the home page click on the orange button that says. "Tickets for Upcoming Performances," which will show you all of the tickets you have with our venues.

4. Find the show you're looking to get the tickets for and click "Download Tickets to PDF."

Buying E-Tickets From the Box Office
Once your order is fully paid for, you can access your tickets directly in your online account (see above for details).
The Box Office can email you your e-tickets upon request, restrictions apply.
For your convenience, shortly before the run of each show, our Box Office will resend you e-tickets via email to anyone who hasn't yet downloaded them. Please make sure the email address we have on record for you is up to date and clear the address info@proctors.org from any spam or junk filters you may have in place.
The day of the show, you can present your e-tickets either on a paper printout or on your mobile device (please just zoom in on the QR code so our scanners have a big enough area to read). Your Proctors Collaborative e-tickets will look something like this:

FAQ's
What if I can't print my tickets out?

Don't worry – we'll make sure you get into your seats for the show! You can present your QR codes on a mobile device for our ticket scanners. Or, you can go to the Box Office, where we will do a manual print out if needed.

What if I want to mail tickets to someone else as a gift?

If someone else is going to use your tickets, please feel free to forward the e-tickets email to the attendees directly.
Thank you for thinking of us for your gifting needs! In general, we strongly recommend getting a gift card instead of booking specific tickets. Gift cards can be emailed or mailed, work at all of our venues, never expire and provide your recipient the most flexibility. If, however, you need physical tickets mailed, just call our Box Office and we can arrange for that. Please note that you may be subject to a small increase in processing fees.

What if I want to keep my physical tickets for a scrapbook or record?

Please feel free to print out your e-tickets and save them wherever you'd like. If it is important to you to have traditional ticket stock, please call our Box Office and we can arrange for that. Please note that you may be subject to a small increase in processing fees.
Special thanks to our Paperless Ticketing Sponsor: