Construction underway at Universal Preservation Hall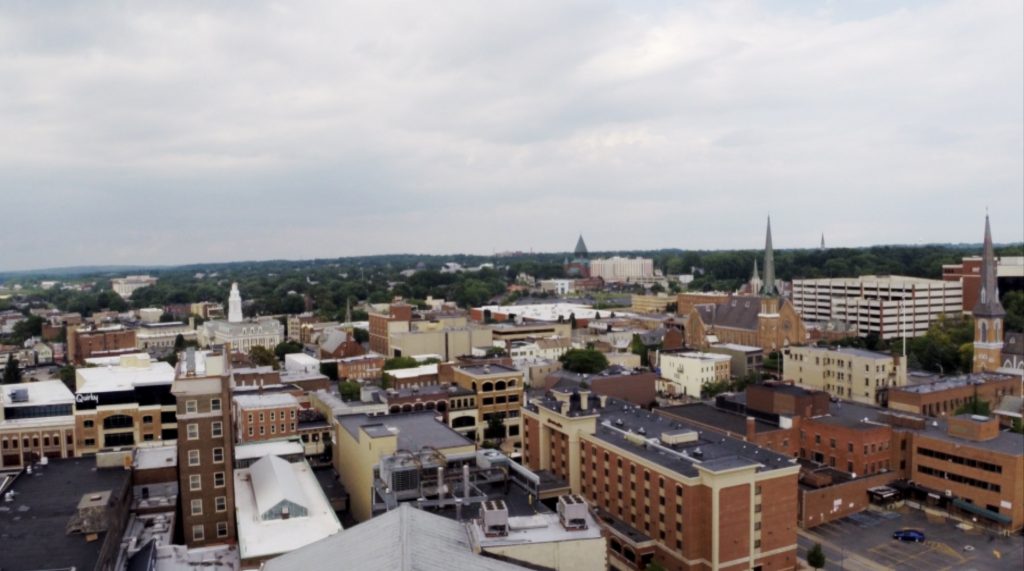 Construction underway at Universal Preservation Hall
Public campaign announced
SARATOGA SPRINGS, N.Y.—DEC. 6, 2018—"Today, we make good on a promise," said Universal Preservation Hall Campaign Director Teddy Foster, Thursday morning, outside the former Methodist church on Washington Street.
"In 2003, we said that we would create an accessible year-round arts center in downtown Saratoga Springs. It has taken time, but construction is now underway, and UPH will open in spring 2020 as a remarkable gathering space for the Capital Region and beyond."
At the event, which announced the public phase of the UPH campaign, Foster was joined by Bonacio Construction President Sonny Bonacio; Saratoga Springs Mayor Meg Kelly; Proctors Collaborative CEO Philip Morris; Saratoga County Prosperity Partnership President Marty Vanags; Empire State Development Deputy Regional Director Arnie Will; elected officials, board members and major donors.
On completion, UPH will comprise a flexible state-of-the-art 700-seat in-the-round performance space in the Great Hall, a Community Room and a modern glass atrium. With a focus on music, UPH will also host theatre, dance and other performing arts and serve as a grand public space for presentations, weddings, fundraisers and community events.
"As we continue to see ourselves more as a region than four separate cities," Morris said, "UPH will become a hub for art, entertainment and conversation."
Important grants in the $9.4 million project came from Empire State Development, which agreed to provide $800,000 as recommended by the Capital Region Economic Development Council; and an additional $750,000, all towards construction, through a Restore New York award to the City of Saratoga Springs.
In a statement, Empire State Development President, CEO and Commissioner Howard Zemsky said, "With its unique architecture, rich history and modern upgrades underway, Universal Preservation Hall will complement the vibrant arts and culture of downtown Saratoga Springs and transform a once-condemned building into a community destination."
At UPH, Vanags presented a Prosperity Partnership check for $26,250, to kick off the public campaign—which represents a rebate of its fees for processing UPH's successful incentive application through the Saratoga County Industrial Development Agency.
"We are delighted to have worked closely with Universal Preservation Hall and Proctors Collaborative to help bring this transformative initiative to reality," said Vanags. "The addition of an all-season performing arts, education and entertainment venue to Saratoga County's exceptional menu of outstanding arts and cultural organizations further enhances the vibrant quality of life that is essential to generating economic development, community investment and job growth."
Work at the site is being done by Saratoga Springs developer Bonacio Construction.
"Having grown up only a few blocks from UPH, to be part of the team that was given the opportunity, and more importantly the responsibility, to not only bring it back, but to deliver it as the community's 'living room,' is an honor," Bonacio said. "There won't be a dry eye in the house on opening day … especially mine."
UPH offers a significant return on investment to organizations and individual donors concerned with the economic and cultural health of the city. According to an analysis conducted by the Capital District Regional Planning Commission, the undertaking will generate a $6 million impact during its first year, including at least 30 construction jobs. Subsequently, the annual operations of UPH, through a combination of direct and indirect employment, will create 22 full time equivalent jobs. Its annual impact on the local economy will exceed $2 million, and the facility will serve an estimated 65,000 visitors per year attending more than 200 events.
"UPH will be an important part of the ongoing revitalization of Saratoga Springs, socially, economically and artistically. As a year-round downtown anchor, it will serve visitors and tourists, but also be a boon for residents of the city and the region."
#
Photo link:
###