Proctors Collaborative has joined a growing number of professional theatres and moved to e-ticketing by default. This means that tickets ordered online, at our Box Office or over the phone will be automatically set for electronic delivery. 
Need help accessing your tickets? 
Buying Online:
When you buy tickets online, you will receive an automated confirmation email from info@proctors.org. This email contains an attachment with your e-tickets (pdf) as well as an ics file that you can click on if you want to add the performance to your personal digital calendar (Google, Apple, etc):

The email also has a direct link back to your online account. Just click "Review my future events": 

If you cannot find your confirmation email, you can always login to your account online to download the e-tickets: 
Use any of our websites and click the "Account" button on the top right to login: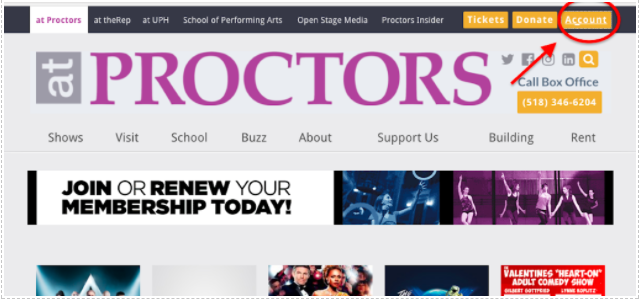 2. Log into your account using the email address and password you have on file with us.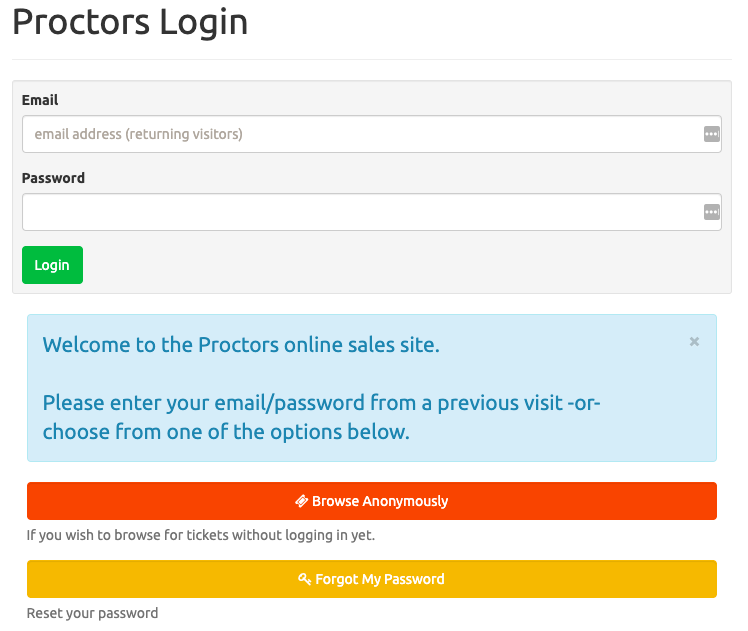 3. On the home page click on the orange button that says. "Tickets for Upcoming Performances," which will show you all of the tickets you have with our venues.

4. Find the show you're looking to get the tickets for and click "Download Tickets to PDF."

Buying From the Box Office
Once your order is fully paid for, you can access your tickets directly in your online account (see above for details).
The Box Office can email you your e-tickets upon request, including the time of sale if you wish.
For your convenience, shortly before the run of each show, our Box Office will resend you e-tickets via email to anyone who hasn't yet downloaded them. Please make sure the email address we have on record for you is up to date and clear the address info@proctors.org from any spam or junk filters you may have in place.
The day of the show, you can present your e-tickets either on a paper printout or on your mobile device (please just zoom in on the QR code so our scanners have a big enough area to read). Your Proctors Collaborative e-tickets will look something like this:

FAQ's
What if I can't print my tickets out?

Don't worry – we'll make sure you get into your seats for the show! You can present your QR codes on a mobile device for our ticket scanners. Or, you can go to the Box Office, where we will do a manual print out if needed.

What if I want to mail tickets to someone else as a gift?

If someone else is going to use your tickets, please feel free to forward the e-tickets email to the attendees directly.
Thank you for thinking of us for your gifting needs! In general, we strongly recommend getting a gift card instead of booking specific tickets. Gift cards can be emailed or mailed, work at all of our venues, never expire and provide your recipient the most flexibility. If, however, you need physical tickets mailed, just call our Box Office and we can arrange for that. Please note that you may be subject to a small increase in processing fees.

What if I want to keep my physical tickets for a scrapbook or record?

Please feel free to print out your e-tickets and save them wherever you'd like. If it is important to you to have traditional ticket stock, please call our Box Office and we can arrange for that. Please note that you may be subject to a small increase in processing fees.