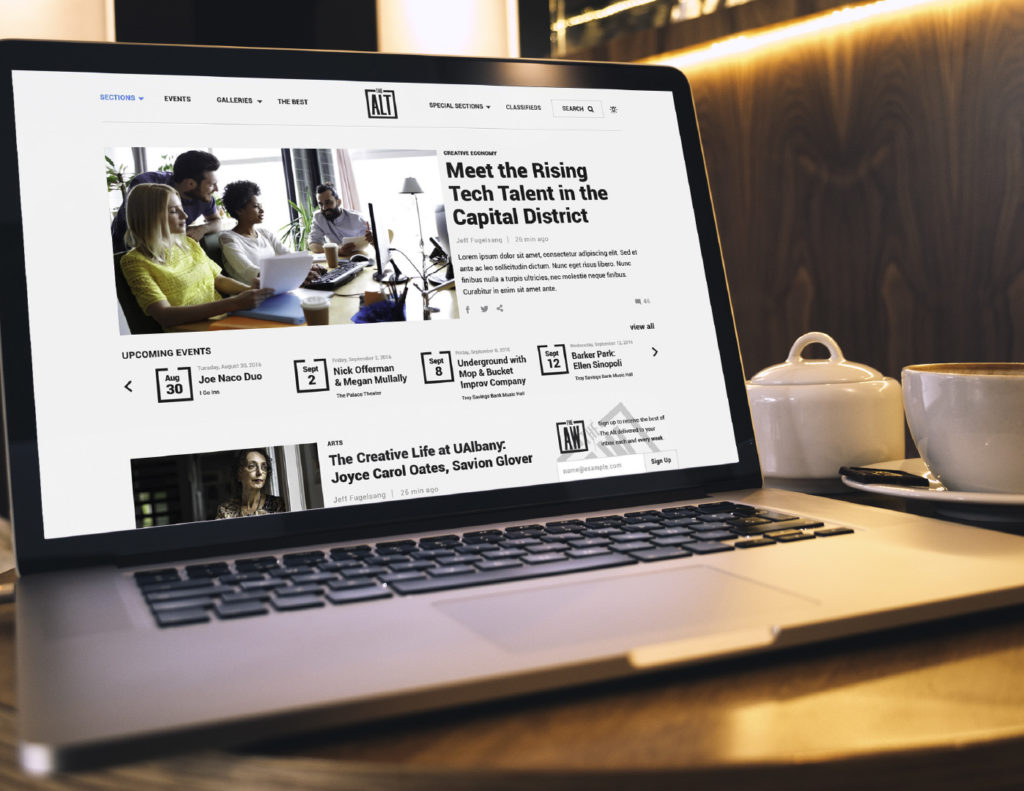 New arts and culture weekly will offer in-depth coverage and comprehensive community calendar
The Capital Region is the largest metropolitan area in the nation without an alternative newsweekly.* This fall, the Alt will arrive to offer in-depth coverage of a
rts, culture, politics, lifestyles and trending news along with a comprehensive community calendar in print, desktop and mobile formats.
Developed by The Daily Gazette, Overit and Proctors, the Alt's interactive multimedia platform grew out of recent studies of the creative economy in the Capital Region; and an effort to join the powerful arts and cultural engines of downtown Albany, Saratoga Springs, Schenectady and Troy, as well as outlying areas in the Adirondacks, the Berkshires and the Hudson Valley.
This collaboration between for-profit and not-for-profit groups reflects the best practices of the creative economy and will be a well-curated, thought-provoking and constantly updated portal to goings-on in the eight county Capital Region; enticing new visitors and speaking dynamically to young locals and travelers alike with a vibrant, irreverent and tech-savvy flavor.
"The Gazette is truly excited to be a part of this wonderful arts and entertainment project," says John DeAugustine, publisher of the century old independe
ntly-owned Schenectady daily. "We have heard from both readers and advertisers about the need for this type of print and digital product for the region."
"Think about all the things happening in the Capital Region," says Proctors CEO Philip Morris. "There's tons to do, to see, to be part of. There's tons to think about and discuss. We want the Alt to be an access point for all of it, a virtual gathering spot."
"We're thrilled to partner with The Daily Gazette and Proctors on the Alt," says Michelle Dinsmore, principal at Overit. "Our marketing agency has been dedicated to participating in the region's creative community through art, music and motion since the early 1990s, and many members of our staff are actively involved in creative pursuits both personally and professionally. It's a natural fit, especially as the Alt's content will integrate social media and video content, and have a focus on mobile use."
Rollout dates are yet to be determined, and details forthcoming, but the Alt will soon provide a new and different voice, and offer an unprecedented web calendaring system designed to help residents and guests of the Capital Region and Tech Valley navigate our cultural riches.#
*According to 2012 census data compiled by the United States Office of Management and Budget for the Albany-Schenectady Combined Statistical Area, cross-referenced by the Association for Alternative News Media database.