Yoga break: Stretch, breathe and reset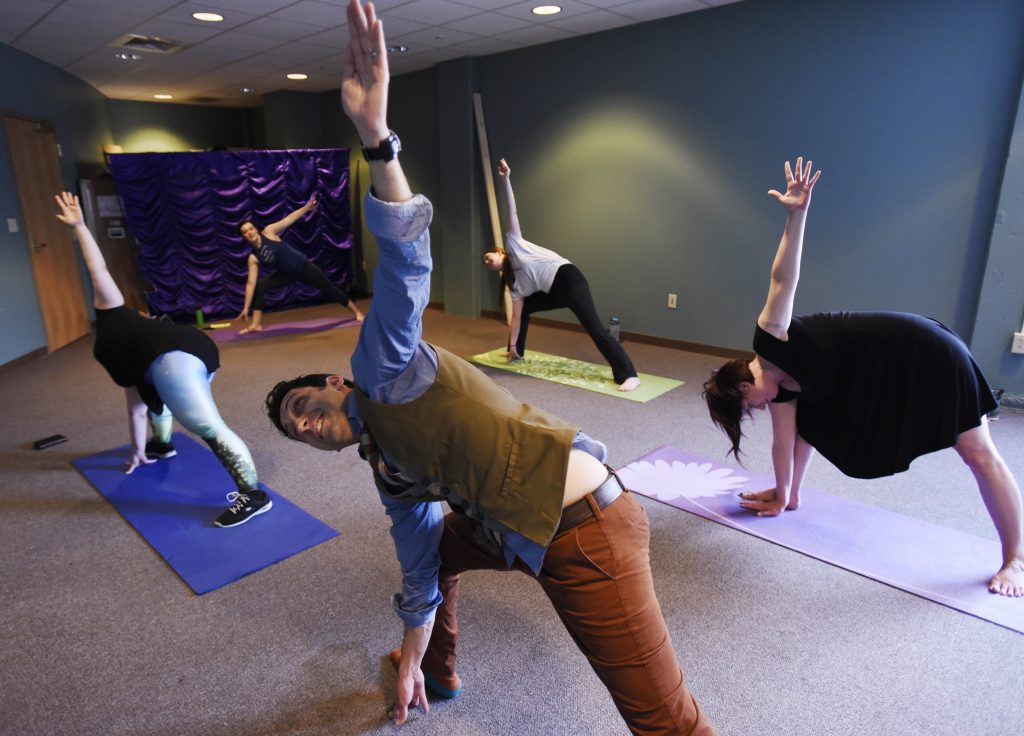 The 30-minute yoga class allows employees to de-stress and stretch mid-week.
Every week Proctors employees attend a quick meeting. Standing in a circle, they talk about what's going on at the theatre, give shout-outs for outstanding work and address anything that needs to be fixed or improved.

That's where yoga at work went from a passing thought to a weekly routine.

Between meetings, phone calls, and emails, a group of employees carve out a half hour every Thursday to breathe, stretch and unwind.

"Come Thursday you know you really need some stress relief," said annual fund director Carrie Kirkaldy.

She wore shiny leggings printed with an image of the forest and night sky to a recent class, but yoga pants aren't required.

Neither is experience.

"This is work," said group leader Grace Janiszewski. "We're not actually all yoga people. But we should all be able to stretch."

Janiszewski, an education program manager, volunteered to lead the class when her co-workers brought up the idea. She wants to be a yoga instructor some day, and it seemed like a good way to get some experience.

"It's a passion that I'm excited to share with people," Janiszewski said.

Sal Prizio, program coordinator, does yoga with his wife in the evening. But that 30 minute break during the workday is perfect for a physical and mental reset, he said.

After hunching over a computer or a phone all day, yoga can help reset posture and stretch out knotted and sore muscles.

For administrative assistant Dottie Cramer, it's done more than just loosen her muscles. Cramer has hip problems and never tried yoga before. But with a little research into chair yoga, Janiszewski was able to adapt postures for Cramer so she still reaps the benefits of stretching and breathing without hurting her hip. In the six weeks since she started, Cramer said she's seen an improvement in her balance, and her mood.

The class size varies week to week, depending on participants and their schedules. The casual atmosphere means it's easy to drop it when there's time.

Even those who are totally new to yoga get something out of the class — even if it's just a break from sitting and a chance to stretch, breathe and socialize.