Songwriter Kevin McKrell and Music Mobile founder Ruth Pelham are first inductees to Capital Region Thomas Edison Music Awards Hall of Fame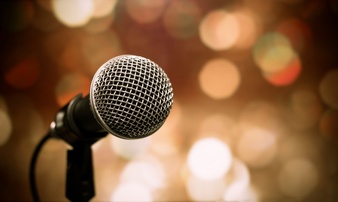 Songwriter Kevin McKrell and Music Mobile founder Ruth Pelham are first inductees to Capital Region Thomas Edison Music Awards Hall of Fame
Both honored at inaugural Capital Region Thomas Edison Music Awards
Sunday, April 14 at Proctors
SCHENECTADY, N.Y.—MARCH 18, 2019—Songwriter Kevin McKrell and Music Mobile founder Ruth Pelham have been announced as the first inductees to The Capital Region Thomas Edison Music Awards Hall of Fame.
Both will be honored at the inaugural Capital Region Thomas Edison Music Awards, presented by The Collaborative magazine and Capital Records Live! 6 p.m. Sunday, April 14 at Proctors.
McKrell is recipient of The Eddies Artistic Lifetime Achievement Award; Pelham of The Eddies Lifetime Achievement Award for Music Education or Community Impact.
Somewhere tonight, across the country or across the sea, a singer, sitting on a stool on a pub's corner stage, is belting out a Kevin McKrell song, and the crowd is singing along.
McKrell pioneered Celtic music in the Capital Region, beginning in 1979 with Donnybrook Fair. The original trio's 1982 album Tunnel Tigers remains a landmark of the form, with its blend of Clancy Brothers swagger and upstate attitude. In 2018, that lineup (featuring Jeff Strange and David McDonnell) reunited, recently playing shows for a St. Patrick's Day regional tour.
McKrell honed his powerful performance style further in the 80s with The Fabulous Newports, a rambunctious harmony group known as much for its antics, cut-up comedy and long list of eventual members as for its sweet singing.
In 1998, McKrell—who has three solo albums to his credit—formed a powerhouse band under his own name, merging the Irish sensibility of Donnybrook with a steely, world class bluegrass edge. The McKrells toured harder than Donnybrook, bringing its music, with McKrell's lusty vocals supported by hot string band picking, to Carnegie Hall, Lincoln Center and festivals and concert venues around the country. The band, in its current incarnation, many members on, released its eighth album, My Big Old Broken Heart, in 2018.
Offstage, McKrell, who has led a number of other short-lived acts, is a respected painter, with his work hanging in many of the halls he's haunted, here and in Ireland, Scotland and Italy.
He is best known, though, for his indelible songs—classics like "Donegal," "I Miss the Rain" and the eternal "All of The Hard Days Are Gone"—which, in addition to the raft of pub singers mentioned afore, have been sung and recorded by artists like The Kingston Trio, Bob Shane, North Sea Gas, The Furey Brothers, Seamus Kennedy and others.
Few artists of any stripe in the Capital Region have left a mark as bold and lasting as Kevin McKrell.
"I'm uncomfortable to say the least," McKrell says when asked to describe his response to learning of the award. "Being as cynical as I am, I will be pointing fingers and making fun of myself. It's very cool. I'm proud of it. It just feels a little weird is all."
Pelham is moved by joining the Hall of Fame.
"This is really touching," she says. "It tickles me to the core. It's a tremendous affirmation not only of my contribution to the arts and community building, but to the need for this kind of work and the power of its effectiveness to generate love."
Hailed by the legendary Pete Seeger as "one of America's great songwriters and an even better community organizer," Pelham, with initial funding from the Albany City Arts Office, launched the Music Mobile on Memorial Day weekend in 1977, as a planned six-week summer program. Instead, The Music Mobile, a brightly-decorated van visiting neighborhoods around the city, became her life's focus, bringing the joys of music, music-making and, most importantly, a sense of belonging to tens of thousands of children over nearly 40 years.
Outside the Capital Region, Pelham brought the materials for making her famous jingle sticks to the greater world, with trips to the former Soviet Union, Sri Lanka and the Havasupai Tribe of the Grand Canyon.
On the streets today, adults with beaming smiles approach "the Music Mobile lady" and spontaneously start singing, from memory, "come along, sing a song, it's the Music Mobile." Pelham has touched so many lives with the power of song.
She is also an internationally-recognized composer, with classics like "I Am a Woman," "Turning of the World" and "The Activity Room"—all featured in the iconic Rise Up Singing songbook—being covered by Holly Near, Ronnie Gilbert, Guy Carawan, Bill Harley and others. Pelham's original album releases include Collage, Under One Sky, Look to The People and Room for Us All.
"I don't think of my work as music education," she humbly says. "I think of it as community action and community impact, using music to teach all kinds of life lessons about getting along, about cooperation, about standing up for other people. My work has been to make music, and to have it be a gentle, but powerful force that fuels and holds and helps people be the very best that we can be."
Tickets for The Capital Region Thomas Edison Music Awards, $20 advance/$25 door, are available at the Box Office at Proctors, 432 State Street, Schenectady; by phone at 518.346.6204; and online at proctors.org.
###