Lorraine Toth is new corporate account executive

Lorraine Toth is new corporate account executive
at Proctors Collaborative
Brings unique artistic vision to selling The Collaborative magazine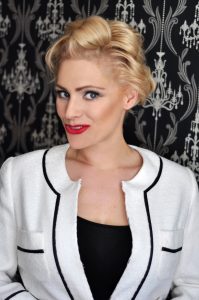 SCHENECTADY, N.Y.—MARCH 25, 2019—"I've had a paintbrush in my hand since I was 18 months old," says Lorraine Toth. The Clifton Park resident is an artist through and through, as photographer, model, author, painter, filmmaker and songwriter.
She joined Proctors Collaborativein February as corporate account executive, with a mandate to populate The Collaborative magazine with advertising and assist with corporate memberships.
Her roots in visual and performing arts (including production work with Electric City Couture) serve her well with The Collaborative.
"It's a glossy, visual, beautiful magazine," Toth says, "focusing on the value of the arts and the creatives behind the arts throughout the region. It's perfect. I'm so proud to help The Collaborative grow and flourish."
Toth, whose books and films can be found on Amazon.com, is well-known locally as an entrepreneur. She founded and operated Bettie's Cakes, a Saratoga County-based baking business, for five years, with six Capital Region locations, including a legendary pink double-decker bus from London.
The latter, with seating for 31, was parked on Stratton Plaza, behind Proctors, when Toth—whose Baking with Baby show also airs on Amazon—sponsored a 2010 visit with Buddy Valastro: The Cake Boss at the theatre.
"Having been on the other side at Proctors, as a sponsor, gives me the huge advantage of knowing what businesses want from a relationship with the arts."
Toth, a mother of two (Johnny Murphy and Shawnee Olsen), maintains DollFace Studios NY, photographing pinups, boudoir sittings, classic cars, weddings and headshots, also in Saratoga County
She has upcoming art shows at The National Bottle Museum (April 7) in Ballston Spa and at Saratoga ComicCon at Saratoga Springs City Center (April 27).
###