Steelworkers bare more than their chests in The Full Monty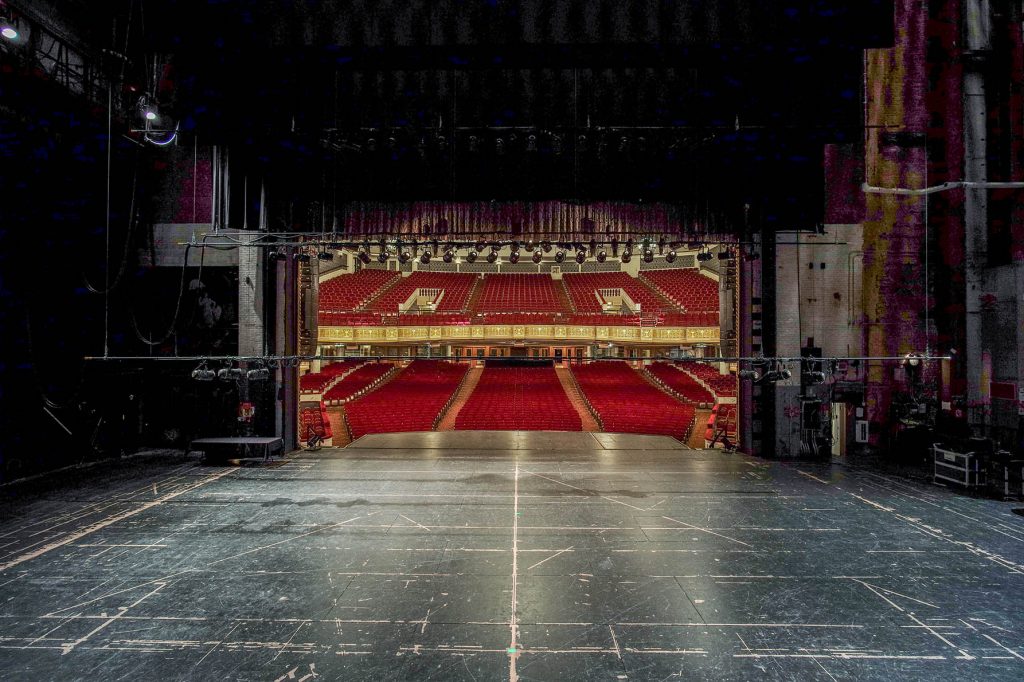 Steelworkers bare more than their chests in The Full Monty
at Capital Repertory Theatre, July 5–Aug. 11
Comic musical has a heart, too
ALBANY, N.Y.—JUNE 18, 2019—The full Monty. It implies nudity, full frontal male nudity. And you'll get a glimpse of that in the comic musical The Full Monty, but the show is about more than that. It's about a group of men baring their souls, admitting fragility and finding strength through the desperate, delightful act of striptease.
It is, according to Capital Repertory Theatre Producing Artistic Director Maggie Mancinelli-Cahill, "a story of friendship."
The Full Monty, featuring a book by Terrence McNally and a raucous pop rock score by David Yazbek, is at theREP this summer, running July 5–Aug. 11.
After their wives enjoy a 'Girls Night Out' at a Chippendales show, a cohort of unemployed Buffalo steelworkers decide that they, too, can "let it go," and dream up a scheme to make extra cash by doffing their duds. It's not as easy as it sounds, but the strength and self-esteem they discover on their way to the stage reminds them they are defined by more than just their job description.
"At its core, The Full Monty is about becoming open to change," says Mancinelli-Cahill. "These men feel like they have been discarded. They're depressed. They don't think anyone will accept them in their broken states. They have terrible self-images, of their bodies, but also, yes, of their souls. And, as they learn about the feelings of others, in songs like "The Goods," they realize hope and push through."
The Full Monty—based on the 1997 British film of the same name—was nominated for ten Tony Awards®. In June, librettist McNally was given a Special Tony Award for Lifetime Achievement. A revival of his 1987 two-hander Frankie and Johnny in the Clair de Lune is currently on Broadway; and a later play, Lips Together, Teeth Apart, was on theREP's stage in 1992. Yazbek is currently on Broadway with the Tony-nominated score for Tootsie; and The Band's Visit, with his Tony-winning score, is at Proctors at the turn of the year.
"When steel left Buffalo," says Mancinelli-Cahill, "it left scars throughout that community. It was a huge deal. It's happening in other industries now. You feel for these guys, these families, in The Full Monty. It's filled with heart."
Christopher Sutton leads the large cast as Jerry, who proclaims his laid off crew will outdo the other dancers by going "the full Monty." Sutton appeared at Proctors in 2008, in Spamalot, with wife Lyn Philistine. They are together again in The Full Monty, with Philistine (last seen at theREP in Mamma Mia!) as Vicki Nichols.
A graduate of national tours with White Christmas and Annie, Gil Brady (Teddy) shared the Mamma Mia! stage with Philistine in Albany, as did Nicole Zelka (Estelle) and ensemble member Joshua DeMarco, who was also seen on North Pearl Street in Shakespeare in Love and She Loves Me.
Susann Fletcher (Jeannette Burmeister) has extensive Broadway and national tour credits, including stints in both the New York and road productions of The Full Monty. Reggie Whitehead tops her, with his role as Noah T. "Horse" Simmons marking his sixth time in the show.
And Ballston Spa native Christopher M. Howard tackles his first role at theREP as Buddy "Keno" Walsh. Howard was resident dance supervisor/dance captain on the U.S. tour of An American In Paris and has also appeared at Proctors in The Phantom of the Opera and Billy Elliot.
Capital Repertory Theatre veterans in the cast include Sue Caputo (Susan), Artistic Associate Kevin McGuire (Harold Nichols), Emily Matthews (Pam Lukowski), Fred Sirois (Reg) and frequent collaborator Josh D. Smith (Tony Giordano), who is also music director/arranger for the show.
A number of actors make their Capital Repertory Theatre debut with The Full Monty, including Victoria Benkoski(Joannie), Kimberly Doreen Burns (Georgie Bukatinsky), Keith Dubois (Nathan), Eddie Maldonado (Ethan Girard), Patrick John Moran (Dave Bukatinsky), David Socolar (Malcolm Macgregor) and ensemble members Mitchell Johnson and Victoria Preisman. Moran was at Proctors in the national tour of Something Rotten.
In addition to Mancinelli-Cahill and Smith, the production team for The Full Monty includes Scenic Designer Scott Aronow, Costume Designer Howard Tsvi Kaplan, Choreographer Freddy Ramirez, Sound Designer Rider Q. Stanton and Lighting/Projections Designer Barry Steele.
Previews for The Full Monty take place July 5–7. Opening night is Tuesday, July 9. Regular performances continue through Sunday, Aug. 11. Performance times: 7:30 p.m. Tuesday through Thursday; and 8 p.m. Friday and Saturday—with matinees 3 p.m. Saturday; 2 p.m. Sunday; and 2 p.m. Wednesdays, July 17 & 24. Capital Repertory Theatre, 111 N. Pearl Street, Albany. Tickets range from $27–$62. Students with valid ID: $16 all shows. For tickets and information, call Tickets by Proctors, 518.445.SHOW (7469) or visit capitalrep.org.
Opening night features live music in the café at 6:30 p.m. and complimentary post-show champagne and dessert from Bella Napoli Bakery.
Special events include:
3 p.m. Saturday July 13—American Sign Language-interpreted show. To secure the best seats for visibility of the signers, please call the Box Office.
6:30 p.m. July 16—Chef's Table Night includes complimentary light fare for ticketholders, provided by Albany Pump Station.
6:30 p.m. Thursday, July 25—Thirsty Thursday, with complimentary samples for ticketholders from Albany Distilling Company, Inc. & Nine Pin Cider.
1 p.m. Sunday, July 28—Behind-the-Scenes pre-matinee discussion with Producing Artistic Director Maggie Mancinelli-Cahill, featuring light snacks for ticketholders at 12:30 p.m.
###