NEXT ACT! winner Jenny Stafford's "Secret Hour" comes to life at theREP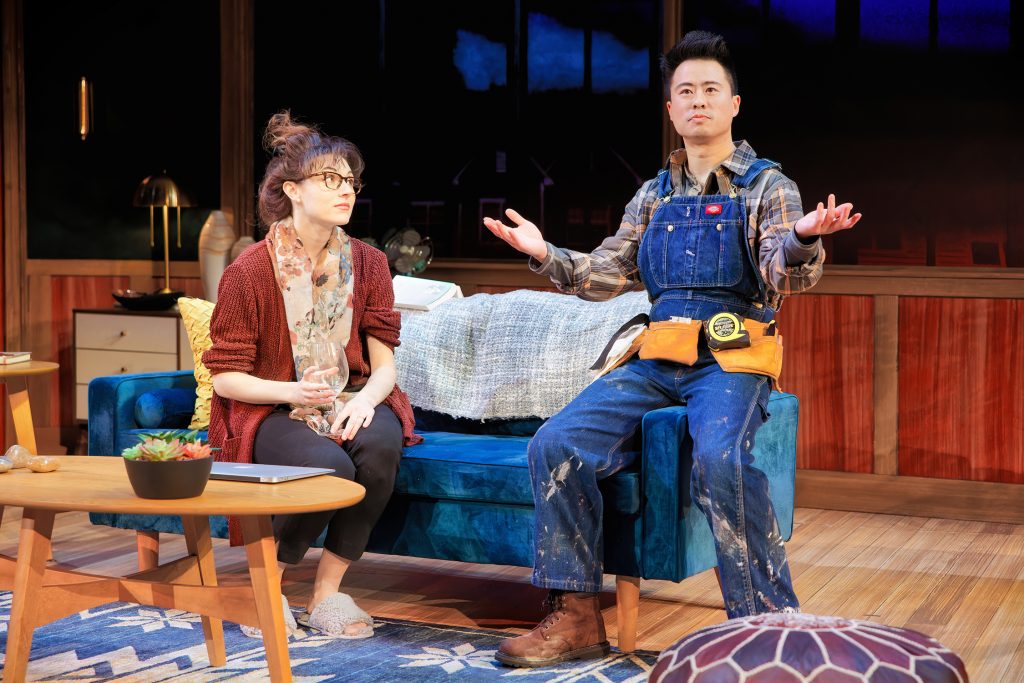 ALBANY — Jenny Stafford, author of the winning 10th NEXT ACT! play, drew inspiration from life around her for the plot of "Secret Hour."
"It's not entirely auto biographical but there is a lot of truthfulness to it," said Stafford.
A lot of it was taking these themes and questions that I have found myself wondering about over and over and over and trying to work them out through these characters."
Previews of "Secret Hour" world premiere begin at Capital Repertory Theatre on Jan. 27 and the play will open to the public on Jan. 31 and run until Feb. 19.
"Her play was strong when it was submitted to us in 2021 – and I believe, in working with her, theREP has helped to strengthen it even more. It's a real joy to work with Jenny, helping to bring her incredible play to life," said Associate Artistic Director, Margaret E. Hall, at theREP who is directing "Secret Hour."
"I did a lot of research on Capital Repertory before I submitted (the play), and I was really impressed by all of their shows and the work they do and the kind of theatre they are. I was really excited to submit it and crossing my fingers that I would get to work with them and it's awesome that I do," Stafford said.
Stafford, the winner of the 2021 NEXT ACT! New Play Summit, is an award-winning playwright, book writer, and lyricist.
NEXT ACT! New Play Summit, is a joint venture between Capital Repertory Theatre and Proctors, hosting an annual showcase of new plays designed to shed light on new play development.
The summit brings playwrights, directors, actors, and audience members together for a series of workshops and readings, where multiple new full-length plays are given readings.
Hall, who is a part of the NEXT ACT! panel, said "'Secret Hour' was the winner of the 10th summit for a variety of reasons … The play was selected, and one of the things I really love about it, is that it deals with ethics and morals – in a world that is more and more morally and ethically ambiguous at best.
All three of the characters – and the audience – are asked 'what's your highest ethical responsibility, to yourself or others.' And I love that the play will leave you thinking about that question."
After four years of working on "Secret Hour," Stafford said, "It's been really fun to see it come together! It's been fabulous to develop the show alongside of (theREP)."
"One of the things (theREP) does really well, that I think a lot of theatres don't always do as well, is they have an actual trajectory for the piece. It was really great that they had a long-term plan for the play," Stafford said.
The play centers around married couple, Kate (a workaholic ethics professor) and Ben (an unemployed programmer) who have invented the perfect game for getting to the truth called "Secret Hour." What started as a fun game to become closer as a couple, turns the tables and puts the couple to the test as to whether knowing the whole truth is really a good thing.
"I hope it makes people think while also having a really good time because it's a serious play but it's also really funny," Stafford said.
Tickets range from $27 – $62. For tickets and information, call the Box Office 10 a.m. – 6 p.m. Monday-Saturday and Sunday 10 a.m. – 2 p.m. at (518) 346-6204 or visit capitalrep.org. 
NEXT ACT! New Play Summit and theREP are a part of Proctors Collaborative.