Man of many hats – Smokey Greene – will join the Eddies Music Hall of Fame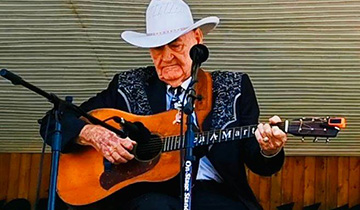 GLENS FALLS – Smokey Greene always dresses for the occasion – wearing a gray suit, a white cowboy hat and a carved silver belt buckle featuring the letter "S" – there's no doubt.
Greene, active in the country and bluegrass music scene for nearly eight decades, is one of eight individuals being inducted into the Capital Region Thomas Edison Music Hall of Fame on March 27 at Universal Preservation Hall in Saratoga Springs. Tickets are available at universalpreservationhall.org.
Wearing many musical hats as a banjo, guitar, mandolin and fiddle player, as well as vocalist – he also owned his own music club in Thompson, N.Y., toured with his band the Green Mountain Boys in the 1970s, worked as country radio DJ for two decades in Glens Falls and founded a bluegrass festival in Corinth which enjoyed a 16-year run.
His guitar case is a reminder of all the places he's been. Covered in stickers and patched together with duct tape, you can tell Greene has been active for a considerable time in the music scene.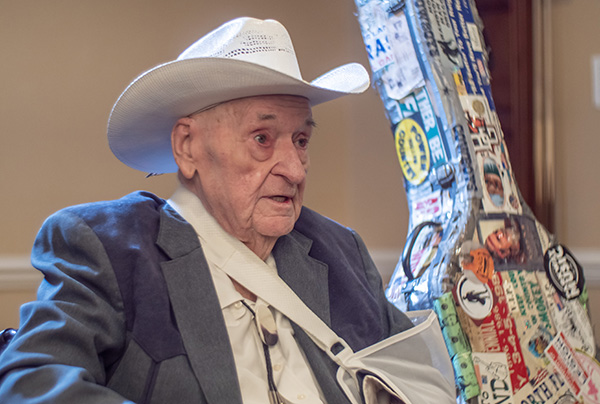 One sticker pops out right away – in big green block letters on a white background – a quote from the man himself reads "KEEP COUNTRY IN COUNTRY MUSIC."
"That was my saying. And everywhere I went – I said that," Greene commented.
Which is what led him to establishing a bluegrass festival.
"I started doing disc jockey work in 1960. Well, the farther it got into the sixties, the more the music changed. And by the time you get into the seventies, country music ain't country no more.
"Instead of fiddles it had violins. Instead of steel guitars, they had voices. And I had listened to Bill Monroe and Mack Weissman and people like that from, oh gosh, I started listening to them in the early fifties. So, I decided I was going to lean toward the bluegrass."
At the time, Greene was booking bluegrass groups into the nightclub he ran. Second Generation wanted to start their own festival and asked Greene if he would "be their go between," securing permits and organizing the acts.
"Well, about three or four months before the festival, the group broke up and I'm saying, 'What do I do now? Leave it up in the air? Heck no. Run it yourself.' So that's how I got my first festival started. It was dropped in my lap and for the first couple, three years I lost money," he said.
"I had run probably 10 festivals before I took a nickel out of it. But I loved the music, the people, I just loved everything about it. And I'd do it again in the minute."
Smokey will be 93 by the time of the award show and still makes appearances when he can. He was 16 when he had his first paid performance in 1946.
"I've got some things booked next year, but I book 'em telling them that I don't buy green bananas," he said.
Visit theeddiesawards.com for more information.
The Capital Region Thomas Edison Music Hall and Universal Preservation Hall are part of Proctors Collaborative.