Late Night, Live Aid and a career full of memories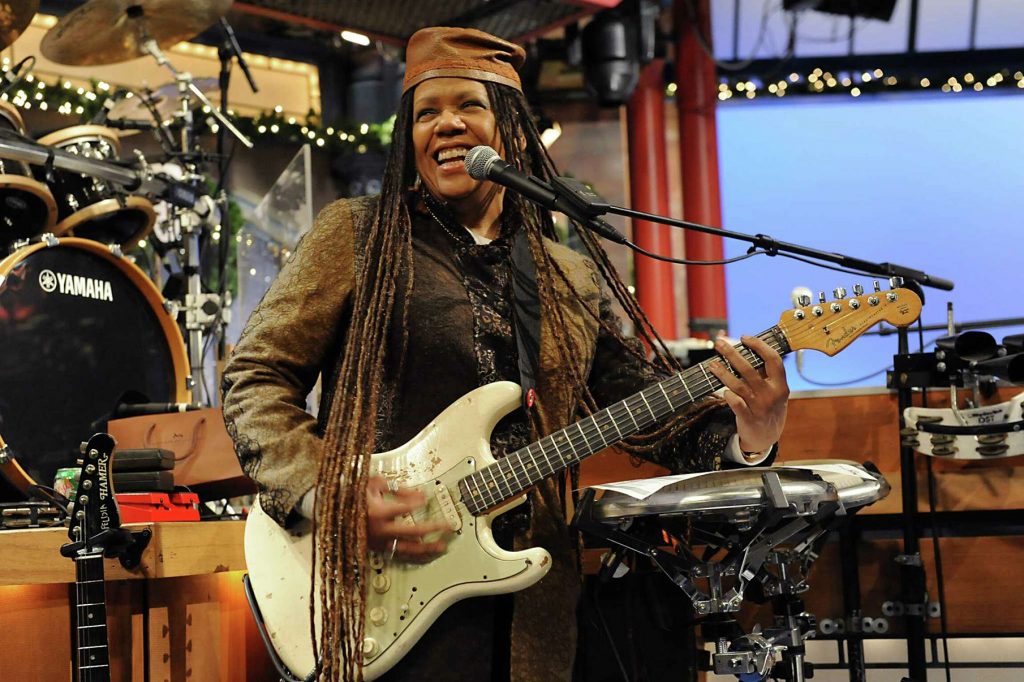 Felicia Collins is inducted in the 5th Eddies Music Hall of Fame class
ALBANY — Felicia Collins learned to play guitar by ear in Catholic elementary school because it didn't offer music classes. She graduated to an "adult" instrument when she was 11, talking a shop owner into letting her put $2 down on guitar, and has never looked back.

"I was probably coming back from the record store," she said, recalling a visit to a Broadway pawn store. "I saw this white electric guitar hanging in the window and I was just like, 'I gotta have that.'"
Once the precocious girl learned how to tune that guitar, "Honey, I was off to the races after that!"
Renown for being out front as a guitarist and singer for the "Late Night with David Letterman" house band The CBS Orchestra for its entire 22-year run on CBS through 2015, the guitarist, vocalist and songwriter has carved out a remarkable music career. Her first "big gig" was with the Thompson Twins during Live Aid at age 21. Over the years she toured and recorded with George Clinton, Aretha Franklin, Cindy Lauper, Madonna and many others. She performed at the Rock and Roll Hall of Fame Induction Ceremony in Cleveland on numerous occasions with her former "Late Night" band, as well as participating in a 2017 album and tour with them under the name Paul Shaffer & The World's Most Dangerous Band. She has also released three solo albums.
Her success has earned Collins a spot in the Capital Region Thomas Edison Music Hall of Fame. She is one of eight individuals being inducted on March 27 at Universal Preservation Hall in Saratoga Springs. Tickets are available at universalpreservationhall.org.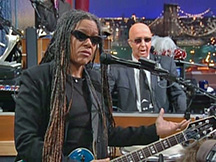 Collins' musical journey started to take off professionally at age 20 when she met producer/musician Nile Rodgers, who today is a Rock and Roll Hall of Fame and Songwriters Hall of Fame inductee and six-time Grammy Award recipient.
"He and I would sit in the studio and just play for hours and just have a ball just because we both sounded alike. We'd just be grooving and having a good time. And then he was inviting me to come down and sing on tracks and play on stuff," Collins said.

At some point she assumed the role of a musical doppelganger for Rogers. "He was so generous 'cause he couldn't be everywhere. He would send me on sessions that he couldn't get to, or he just wanted to send me instead just to see what they would say. And that, that's what jumpstarted my whole professional career … thank you, brother."
Reflecting on the Letterman show, she called it "the best gig of her life," and Shaffer, "the ultimate bandleader because he's a musician first.

"Those are my best times I can think of being in that band is just the laughing, the jokes, you know, just being in a good mood all the time," she said. "You know, the music of course was like up here, up here and each one of 'em would blow me away. Like, holy (expletive), these guys are good. Awesome. They could play anything at a moment's notice. Never been in another band like that."

The group has reunited often, most recently for a special appearance as house band for one evening on "The Tonight Show Starring Jimmy Fallon." The broadcast was Feb. 3, the very same day her induction into the Eddies Music Hall of Fame was announced.
Today Collins continues to collaborate with other musicians, performing and working on musical projects that give her inspiration. She was guitarist in an off-Broadway play, "Marie and Rosetta," about the real-life musical duo of Sister Rosetta Tharpe and her protege Marie Knight. And she curated, produced and toured "DANCE, MF, DANCE," an experience promoted as an "underground LIVE dance groove-athon."
For more information on the Eddies Music Hall of Fame visit the theeddiesawards.com.
The Capital Region Thomas Edison Music Hall and Universal Preservation Hall are part of Proctors Collaborative.