Capital Repertory Theatre announces appointment of new officers to Board of Directors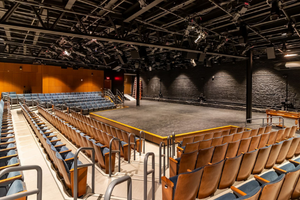 ALBANY – Capital Repertory Theatre announced several recent changes to its board of directors. Margaret Becker has been appointed as the new president of theREP's board.
Becker will be replacing Harold Iselin after completing his term and filling the role for many years. Becker previously held the role of vice president; she has long been a subscriber and donor of theREP as well as enrolling her daughter in theREP's wonderful summer education programs. Becker has been a board member at theREP since 2015 as well as a member and supporter of many other community organizations.
"I am excited and honored to be stepping into this new role. A lot of hard work went into creating this new beautiful and versatile theatre in Albany. I know I speak for the entire board in saying that we look forward to more great theatre, plus the opportunities to join with our new neighbors to create and connect," says Becker.
Stephen Madarasz is the newly appointed secretary of theREP's board, and Michael A. West Jr. has been appointed as a new member. Madarasz, a marketing communication professional, has served for more than 30 years as a versatile public representative and executive for CSEA – New York's Leading Union, among other roles and public activities. West is a partner at Milk & Honey PR in New York City. He specializes in energy and clean tech clients internationally.
Returning to their roles as officers are William Chalmers as vice president and Frank Walsh as treasurer. Chalmers is an alum of SUNY and served as Assistant Provost and Interim Director of the University Center for Academic and Workforce Development. In that role, he oversaw system-wide management and development of academic preparation, workforce development and welfare-to-work initiatives.
Walsh is the Acting Medicaid Inspector General and has more than 25 years of professional public service within the New York State Division of the Budget, ultimately achieving the title of Chief Budget Examiner of the Health Unit.
In addition to congratulating those in new positions, theREP is happy to be welcoming back many board directors: Carolyn Anderson, Monice Barbero, Martha Deborah Brown, Rick Carlstrom, Albert De Salvo, Jennifer Dorsey, M. Sherry Gold, Harold Iselin, Kimberly Sanger Jones, Bennett Liebman, James Miller, Donna Purnomo, Howard Read, Vickie Smith and Tamani Wooley.
Capital Repertory Theatre is a part of Proctors Collaborative.