Familiar faces return to theREP for "A Midsummer Night's Dream"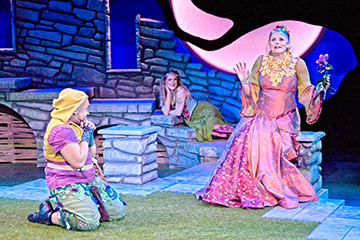 Pictured L-R: Kyle Garvin, Gabrielle Bazinet Douglas and Yvonne Perry. Photo by Doug Liebig.
ALBANY — Frequent patrons of Capital Repertory Theatre productions will recognize familiar faces in theREP's current show, William Shakespeare's popular comedy "A Midsummer Night's Dream."
In a world where dreams and reality blend together, the story features otherworldly creatures, lovers on the run and a group of amateur actors all within an enchanted forest in Athens. Games of fantasy, love and dreams lead to transformation in Shakespeare's most beguiling comedy. Add a dash of magic and trickster fairies and in this forest, anything can happen.
"Midsummer" opens Tuesday, April 18 and runs through Sunday, May 7. Tickets and information are available at capitalrep.org.
The production, directed by theREP's Producing Artistic Director Maggie Mancinelli-Cahill, is brought to life by the talented stage crew, costume designers and other technicians at theREP.
Familiar faces
Kyle Garvin returns as Puck from his recently celebrated portrayal of the Cowardly Lion in theREP's "The Wizard of Oz." Other returning actors include Kevin McGuire (as Peter Quince), Yvonne Perry (Hippolyta/Queen Titania), Oliver Wadsworth (as Bottom) and David Girard (as Egeus/Snug)
McGuire and Perry are both associate artists at theREP and have performed in numerous theREP productions. McGuire has performed on Broadway several times and directed Hamlet in 2015 for the theatre. Perry won television's "As The World Turns" its first Soap Opera Digest Award (for Outstanding Female Newcomer in Daytime.)
Wadsworth was in theREP's 2019 World Premiere Production of "Red Maple" and won a Broadway World award for Best Actor in a New Play.
Girard, a professor at Siena, and artistic director/founder of Troy Foundry Theatre, has been in several shows at theREP as fight choreographer and assistant director.
Making their debut
Portraying one half of the play's royal pair, Chauncy Thomas, makes his debut at theREP as Duke Theseus/King Oberon alongside the veteran Perry.
Two members of Troy Foundry Theatre are also performing on theREP stage for the first time: Raya Malcolm, a member of the local indie folk vocal trio Hold on Honey and Ethan Botwick, who has performed in theREP's On-The-Go tour, "The Remarkable and Perplexing Case of Henry H!."
The (Shakespeare) plays the thing
theREP has toured a "A Midsummer Night's Dream" in a shortened 45-minute version as part of On-The-Go! program several times.

"We've also toured—and are again in the fall—a production called "Shakespeare: The Remix," which uses snippets of his works," said Margaret Hall, associate artistic director at theREP.
The theatre has also put on productions of "Taming of the Shrew" in 2008, "Hamlet" in 2015 and "Shakespeare in Love" in 2019.
Costume, sets
About a quarter of the show has been built from scratch, said Hall.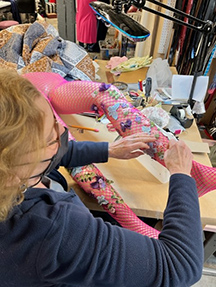 "The rest has been altered/reconstructed or transformed from previous productions into new creations. The Titania dress and custom corsetry alone took a week and a half of labor by a highly skilled costume technician.
"Midsummer is a big show for us, and the shop has been full with between three and seven technicians working on any given day," she added.
The inside scoop
Two things that may surprise audiences: the soundtrack is a mix of magical sounds and 1980s rock, and the action of the play spills out into the house.
Capital Repertory Theatre is a part of Proctors Collaborative.