Broadway Camp: Aida at Proctors, Aug. 3–4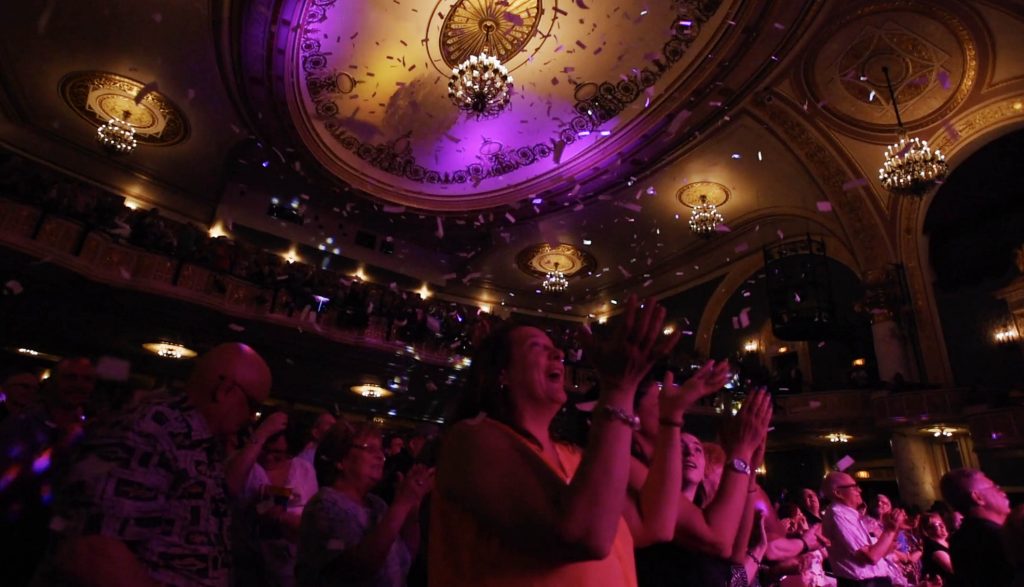 Multiple Tony Award®-winning Elton John & Tim Rice musical staged by student actors, musicians and technicians
SCHENECTADY, NY—JULY 18, 2018—The School of the Performing Arts at Proctors is busy, busy, busy as summer progresses. In the spring, through TheatreTECH, students prepped a new show, Young Dr. Jekyll, for its planned off-Broadway production; in June, SOPA sent two students from the High School Musical Theatre Awards at Proctors to the national Jimmy Awards in New York City; and, now the School of the Performing Arts presents Broadway Camp: Aida, at Proctors for three performances, Aug. 3–4.
Based on the Verdi opera of the same name, Elton John & Tim Rice's Aida is a sumptuous Broadway feast, a treat for the ears, the eyes and the soul. The tale begins simply enough, with a man and woman catching eyes at an art museum. They, and the audience, are immediately transported back to the time of the pharaohs, and to the heartbreaking, yet uplifting love story of Aida and Radames.
The show's surging score kept it on Broadway for four years, and Aida has since become a global hit on the road.
The students of Broadway Camp—led by Proctors Youth Programs Director Steven Yuhasz—touch every aspect of this awe-inspiring production, from costumes and sets, to playing in the pit and, of course, singing modern classics like "Written in the Stars," "Halfway to Heaven" and "Every Story is a Love Story."
Aida plays at Proctors, 7 p.m. Friday, Aug. 3; and 2 and 7 p.m. Saturday, Aug. 4. Tickets, $10, are available at the Box Office at Proctors, 432 State Street, Schenectady; by phone at 518.346.6204; and online at proctors.org.
Broadway Camp: Aida features many returning TheatreTECH students backstage, building the show and its various elements.
It also boasts a bevy of previous Broadway Camp cast members from 2016's All Shook Up and 2017's Pippin—including Conner Eastman, Ashton Fariello, Tayha Hurn, Trinity-Robin Santos and Robert (Joey) Titus who all appeared in both.
Schenectady High School student Monica Rathbone participated in All Shook Up, Pippin, TheatreTECH and this year's HSMTA!
Niskayuna Central School District Accompanist and Music Librarian Maria Germain joins the Broadway Camp teaching team this season as musical director; and Broadway hoofer Freddy Ramirez returns as choreographer, fresh off his work on the smash run of Ring of Fire; The Music of Johnny Cash, currently at Capital Repertory Theatre
"This edition of Broadway Camp," says Yuhasz, "is the cumulative outcome of discussions with the creative team, education staff, patrons and feedback from the students. Our vision is to provide as close to a professional theatre experience as possible for all of the students that participate. A year of planning for Broadway Camp created focused workshops to mirror the work on stage, backstage and in the pit in all areas of acting, production and orchestra along with specialized daily studio classes to prepare and challenge the students. The students not only had the opportunity to rehearse a show, but were fostered and experienced crossover training in all areas of production."
Broadway Camp is a uniquely intensive program, affording students (who exit the program with headshots and resume material) not only the opportunity to train with working professionals, but also to tackle the real tasks of creating a show from every angle.
"We begin as strangers," says Yuhasz, "and we grow into a remarkable and confident company of students, passionate teachers and dedicated production team members. It's an experience that is irreplaceable for all involved."
Yuhasz, his creative team and students from the program are available for interviews. Photo/video opportunities for media are easily arranged and offer engaging visual content for readers/viewers.
Broadway Camp: Aida at Proctors is sponsored by Adirondack Studios
and M/E Engineering, P.C.