First EDM event to light up UPH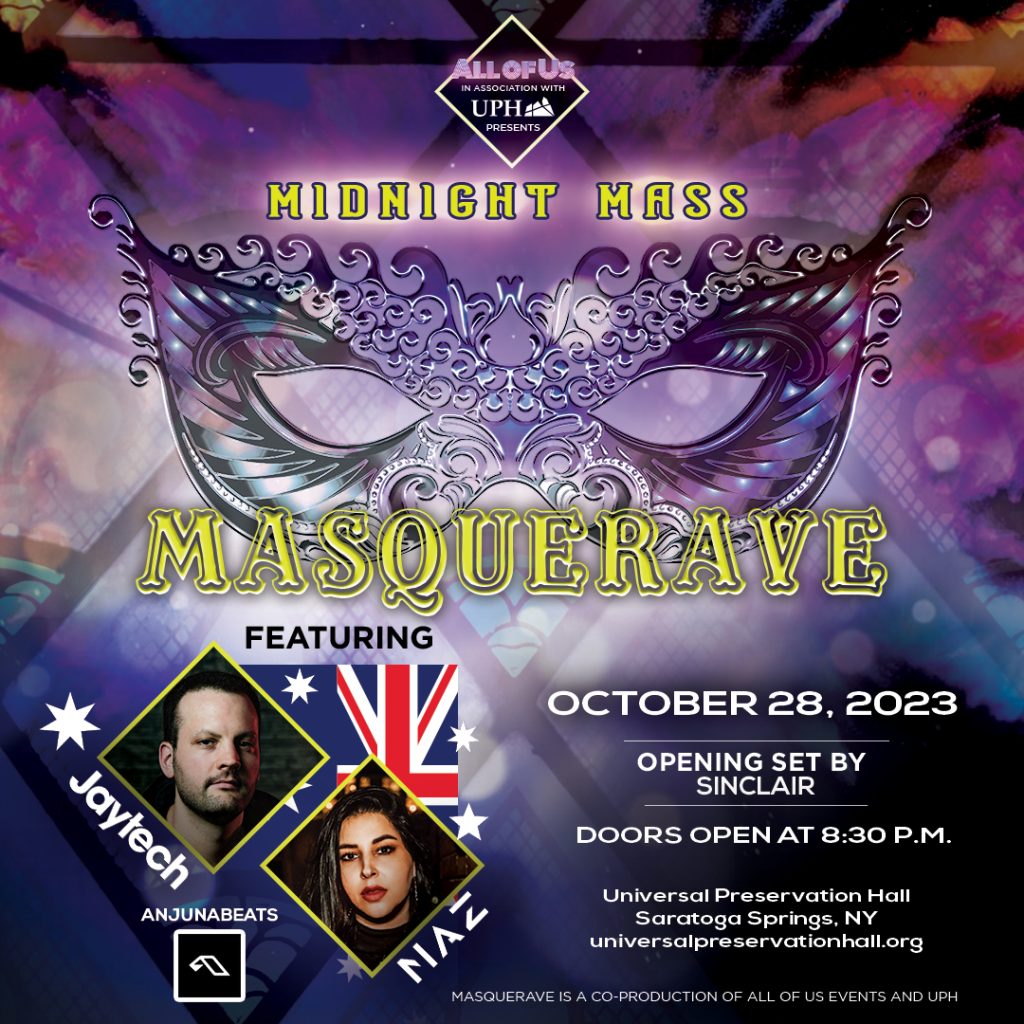 Halloween weekend rave coming to Saratoga
SARATOGA SPRINGS — The moment Shane Stiel walked into the nearly 150-year-old historic church located in downtown Saratoga Springs he knew.
He knew he wanted to host the first-ever electronic dance concert at Universal Preservation Hall.
Stiel, the creative vision behind "Midnight Mass: The Masquerave" is bringing progressive house and techno sounds to UPH on Saturday, Oct. 28. His company All of Us Events hopes to bring strong musical acts to the area.
"The lighting, the atmosphere, the building itself… it's incredible," Stiel said.
Featuring two Anjuna Beats stars, Jaytech and Naz, and local opening act Sinclair, the night promises to thrill!
Anjunabeats-an established global touring brand-presents cutting edge trance and progressive house lineups at iconic venues and festivals all over the world.
Jaytech, an Australian born producer, toured with Above & Beyond and has performed at Electric Daisy Carnival in Las Vegas, Tomorrowland in Belgium and Electric Zoo in New York.
A trained pianist Jaytech started producing at the age of 14, and in 2006, a remix of his track was "Genesis" was included in one of Tiesto's compilations.
Naz who recently debuted an EP, hopes to "make people feel through the powerful language of music while pushing boundaries with genres and style and sound design."
A DJ since 1994, Stiel wanted to bring something different to the area. He believes there's a market here for the community.
"Once people see the venue, I think it's going to blow people away," he said. Talking about the event, Stiel said the lighting design and dancefloor is the perfect place for house music.
Costumes are encouraged for the Halloween weekend event! Doors open at 8:30 p.m. for a fun night of dancing.
Tickets are available through the Box Office at Proctors in-person, via phone at (518) 346-6204 Monday-Saturday 10 a.m.-6 p.m. or online at universalpreservationhall.org.
UPH is a part of Proctors Collaborative.