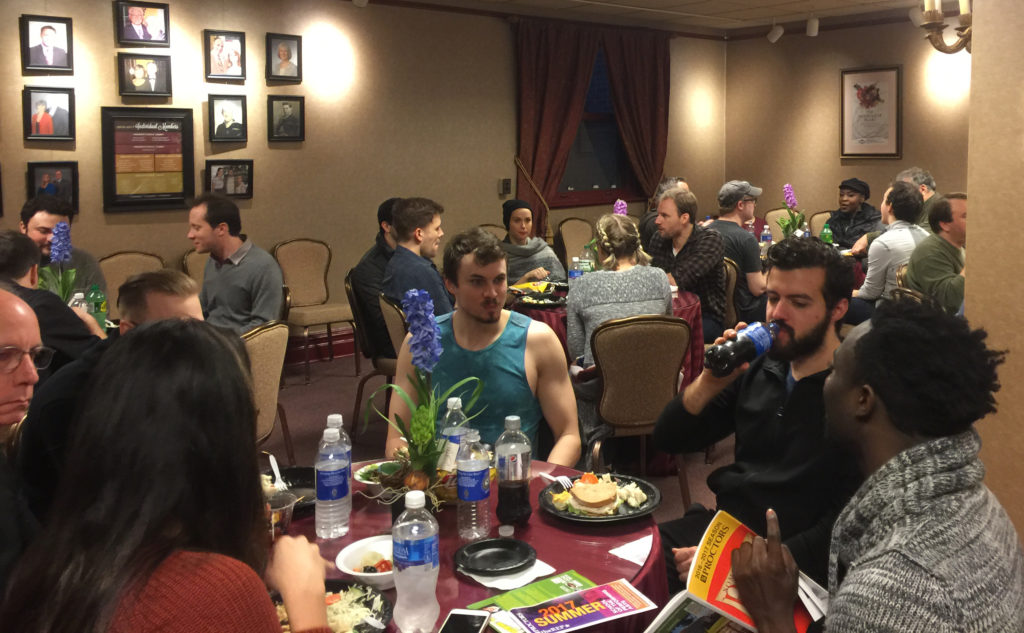 Homemade lunch with Something Rotten cast and crew was a huge success
By Kate Dudding
Our Taste of Home, with the cast and crew from Something Rotten, was a huge success and lots of fun (see photos). Nearly 40 people enjoyed our homemade lunch plus sandwiches from Apostrophe Café.
The "back office mom" (who makes sure all 50 members of the company have places to stay and food to eat, etc.) told me that all the dressers were local people, clearly people who can come up to speed rapidly. They have to dress all 27 members of the cast, each with their own rack of costumes.
Future Taste of Home
We've invited the cast and crew of Wicked for lunch on Thursday, March 2, between their matinee and evening performances. We won't know if they accept our offer until they arrive in Schenectady.
If you'd like to join in the fun, email me; include your contact info, including your telephone number, please.
You can just drop off the food that day, or bring the food and help set up, starting 3:30 – 4 p.m. and serve. That's really the most fun, talking with the company. For example, I had a lovely chat with the knitting group in Cinderella's company – the wicked step-sister was actually a very delightful young lady.
What kind of food? One of your special standbys not available in restaurants, such as things you enjoyed as a kid and still do, maybe your grandmother's cookies or her homemade mac and cheese.
Capital Region Wine Festival
The 9th edition of our annual celebration is 1 p.m. Saturday, March 18. Sample a wide variety of exceptional red, white and sparkling wines, along with restaurant samples, entertainment, a live auction, and more. Molly will be sending Guild members an email describing the help needed that day.
Future Guild events
Committees are being formed to organize the Spring Luncheon in Key Hall with a Broadway cast as well as the Gala in the fall.
Again, if you are interested, email me and I'll pass on your contact info, including your telephone number, please.
Results of holiday basket raffle
Due to the hard work of co-chairs Sue and Theresa plus all those who helped at the shows in December, over $10,800 in raffle tickets were sold! Just amazing work – thanks so much.